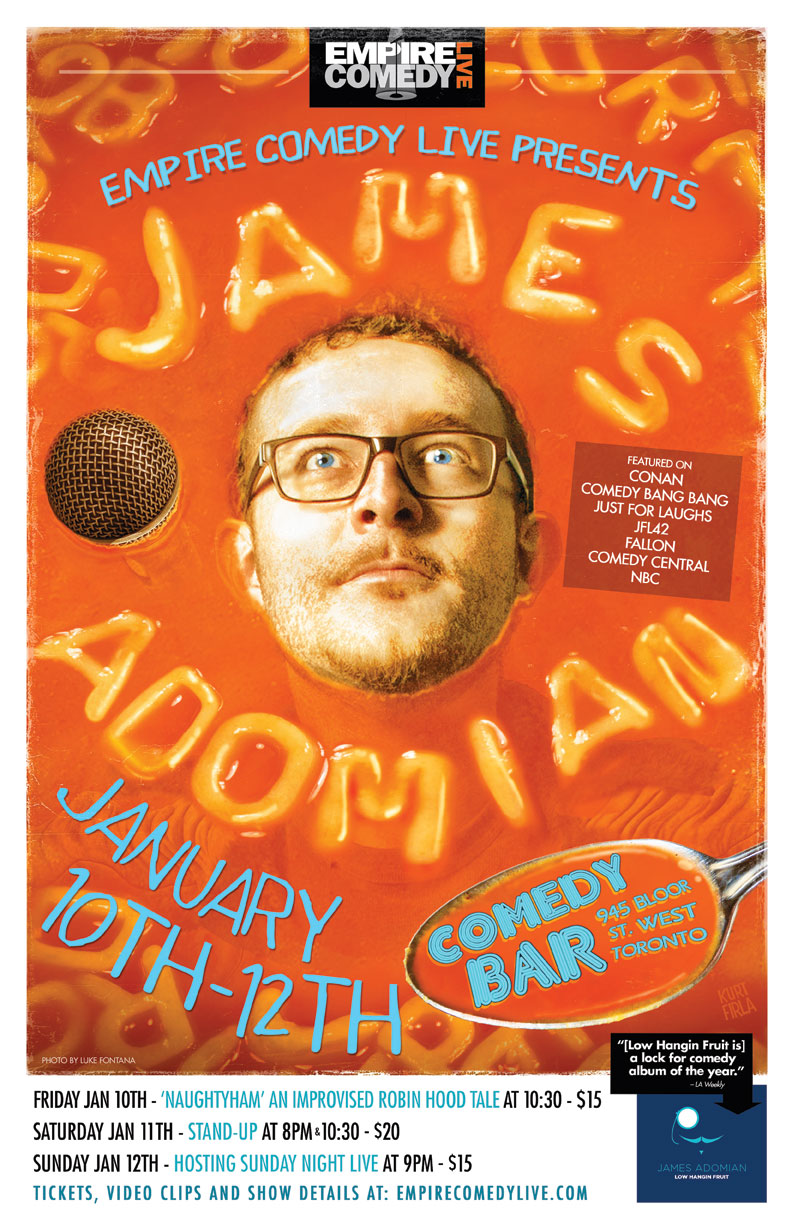 James Adomian Returns to Toronto January 10, 11, & 12!
A standout performer from IFC's Comedy! Bang! Bang!, and JFL42, James makes his eagerly awaited return to Toronto on January 10th.
A ridiculously versatile performer, James will be performing a mix of improv (Friday), stand up (Saturday), and sketch (Sunday). Details below
Friday January 10 – 10:30pm – $15
Naughtyham – An Improvised Robin Hood Tale
Saturday January 11 – 8 & 10:30 – $20
Live Stand Up
Get tickets for 8pm
Get tickets for 10:30pm
Sunday January 12th – 9pm – $15
Guest Hosting Sunday Night Live
Bio -
JAMES ADOMIAN is a daredevil dancing queen – but don't you know deep down he's just a kitten!
James was a finalist on the 2010 season of LAST COMIC STANDING, and his many insane characters appear as celebrated guests all over the podcast-o-sphere. He is a staple on COMEDY BANG! BANG! and guest stars on the new season of CHILDREN'S HOSPITAL. Catch James live performing standup and characters across the globe at festivals, comedy clubs, gay bars, rooftop parties and radical political events.
His debut standup comedy album LOW HANGIN FRUIT was released in 2012 via Earwolf to rave reviews
"[Low Hangin Fruit is] a lock for comedy album of the year." – LA Weekly
James Adomian – Beer Commercials

James Adomian – Sam Elliott

James Adomian – The Sheriff of Nottingham