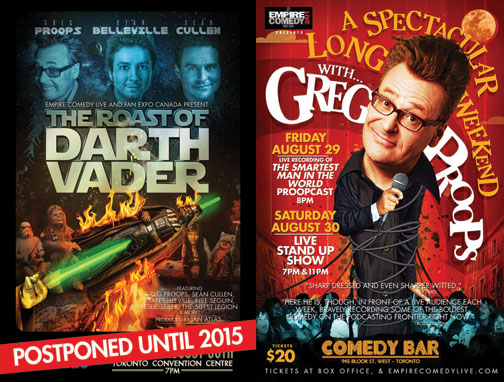 Sadly the Roast of Darth Vader has been cancelled for 2014, but Greg Proops is still coming to Comedy Bar for 3 exciting shows!
Friday August 29th – Live Podcast Record for The Smartest Man In The World
8pm – Comedy Bar 945 Bloor St W (at Ossington Subway Station)
$20 – Click Here for Tickets
"Here he is, though, in front of a live audience each week, bravely recording some of the boldest comedy on the podcasting frontier right now."
-Rolling Stone Magazine
"Greg Proops's bold, never-boring voice takes center stage in this live recording of his renowned podcast."
-New York Times
Saturday August 30th – Live Stand Up Comedy Events
7pm & 11pm – $20
Comedy Bar 945 Bloor St W (at Ossington Subway Station)
Click here for 7pm Tickets
Click here for 11pm Tickets
Bio:
Greg Proops is a stand up comic from San Francisco. He lives in Hollywood. It's not that bad. Really.
The Proopdog is best known for his unpredictable appearances on Whose Line is it Anyway? He can be seen on the New Season on the CW
Greg has a brand-new stand up special called Live at Musso and Franks available at gregproops.com recorded at the legendary Hollywood eatery.
Professor Proops has a hit Podcast called The Smartest Man in the World. He has recorded it live in London, Australia, New Zealand, Montreal, Edinburgh, Dublin, San Francisco, Oslo, Amsterdam, Austin, Paris aboard a ship in the Caribbean and somehow, Cleveland. Find it at Proopcast.com or iTunes.