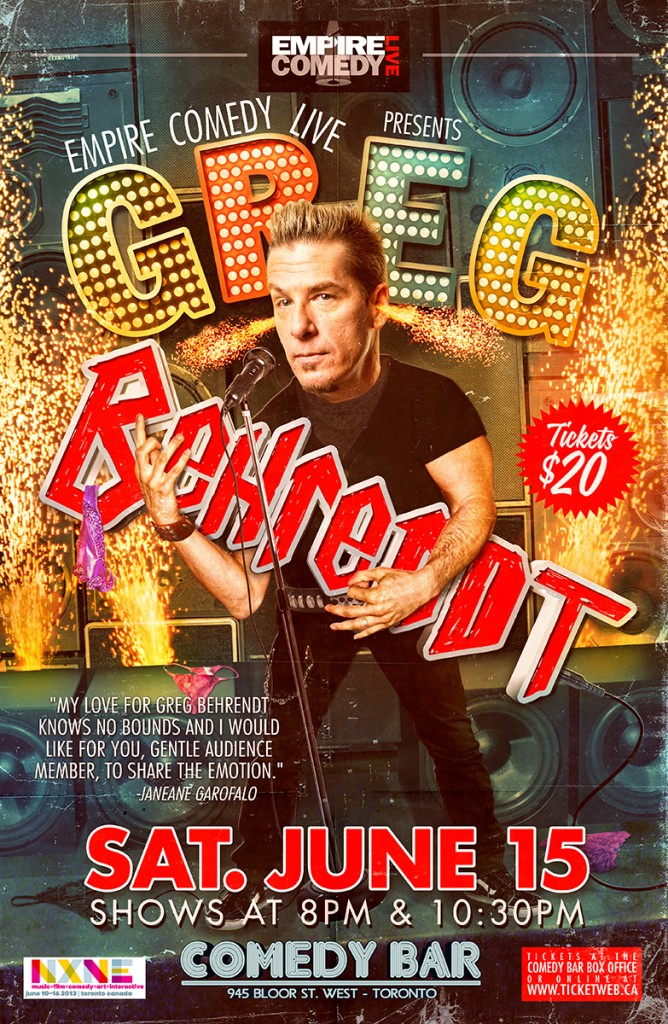 "My love for Greg Behrendt knows no bounds and I would like for you, gentle audience member, to share the emotion" – Janeane Garofalo
Greg Behrendt – Live at Paintbox Bistro Friday June 14th
555 Dundas Street E @Parliament St
9pm *SPECIAL EVENT!
Use your NXNE pass, or make a reservation at: http://paintboxbistro.ca/reservations.html
With special guests: Pete Zedlacher, Eddie Della Siepe, and Bobby Knauff
Greg Behrendt – Live at Comedy Bar Saturday June 15th
945 Bloor St W
(at Ossington Subway Station)
8pm & 10:30
$20 Admission or use your NXNE Pass

Special guests include: Craig Fay, w Nile Seguin & Jay Scott (8pm)
with Andrew Ivimey, Michelle Shaughnessy & Chris Allin (10:30pm)
We are unbelievably excited to be able to bring Greg to Toronto this year!
We were lucky enough to catch his solo show at Just For Laughs in 2012, and trust us when we say that you do not want to miss this one. Greg is an absolute dragon slayer on stage!
Greg is a wonderfully warm and engaging comedian who has made four appearances on The Tonight Show, has performed twice on Late Night with Conan O'Brien, and has made multiple gala appearances at Montreal's Just For Laughs Festival (4x), and at festivals across the US, Australia, and Europe.
Greg has also recorded two full hour stand up specials: That Guy From That Thing, and Uncool.
Additional credits for Greg include:
Co-host of the Walking The Room Podcast (w/Dave Anthony)
John Oliver's New York Stand Up Show (Comedy Central)
The Colbert Report (Comedy Central)
30 Minute Solo Comedy Central Presents Special
Chelsea Lately (E!)
Live at Gotham (Comedy Central)
The Oprah Winfrey Show
I said it at the top of the page, and I'll say it again. You Do Not Want To Miss This Show!

Here's a small sample of some of his stand up:
The Birth of "He's Just Not That Into You"

Man Purse

A Free Sunday