The Epic Nerd Show makes it's grand return on February 10th & February 11th, with The Nerdist himself Chris Hardwick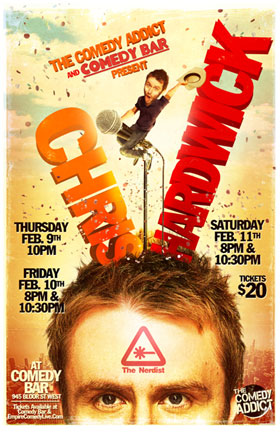 Buy Chris Hardwick Tickets Here

Update!! All shows are SOLD OUT!

The world famous Nerdist is returning to Toronto for a weekend of shows for the first time since Just For Laughs 2009.
He's recording his new Comedy Central special on Feb 17th, so this is his last stop to get everything polished.
Tickets are $20, and are available at the Comedy Bar box office at 945 Bloor St W or by following this link:
Note: The Thursday show has been cancelled due to Chris being booked to appear on Late Night with Jimmy Fallon. Any tickets purchased for Thursday have already been refunded.
About Chris Hardwick:
Chris is the creator and star of The Nerdist Podcast (A Top 10 Comedy Podcast on iTunes), the cornerstone of Nerdist industries; an industry that has spawned:
* A Wildly Popular Blog at Nerdist.Com
* 1.5 Million Delightful Twitter Followers (Selected by Time Magazine as one of the 140 most influential people on Twitter) @Nerdist
* A Nerdist Television series on BBC America
* A New Book from The Penguin Group titled "The Nerdist Way"
* Talking Dead, the official AMC aftershow about The Walking Dead
Chris also hosts "The Soup's" geeky little brother show "Web Soup," and plays with gadgets on "Attack of the Show," both on "G4."
Hardwick makes regular appearances on Chelsea Lately, The Soup, and The Late Late Show with Craig Ferguson.
Additionally, he has played at numerous comedy/music festivals including Just for Laughs, US Comedy Arts, SF Sketchfest, SXSW, Coachella, Bumbershoot.
The shows at Comedy Bar feature Rob Mailloux with special guests
Friday 8:00 Evan Desmarais & Nerds with Guitars
Friday 10:00 Rhiannon Archer & Dylan Gott
Saturday 8:00 Andrew Ivimey & DeAnne Smith
Saturday 10:00 Dom Pare & TBD
This show is presented by The Comedy Addict & Empire Comedy Live