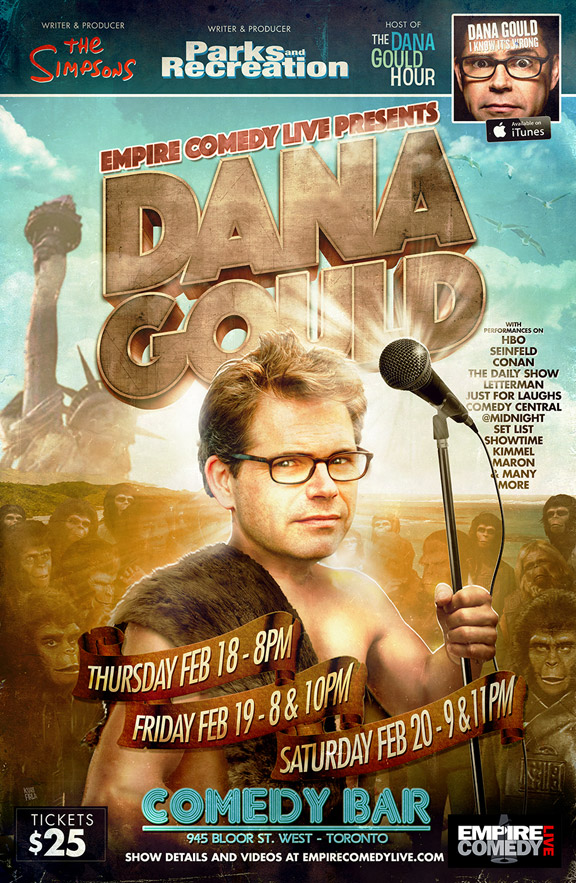 Showtimes & Tickets
Thursday Feb 18 – 8pm – SOLD OUT
w/ Mike Wilmot & Pete Zedlacher
Friday Feb 19 – 8pm & 10pm
8pm Hosted by K. Trevor Wilson w/ Mark Little, & Dave Atkinson – SOLD OUT
10pm Hosted by K. Trevor Wilson w/ DeAnne Smith, & Todd Van Allen – SOLD OUT
Saturday Feb 20 – 9pm & 11pm
9pm Hosted by Craig Fay w/ Steve Patterson, & Todd Graham – SOLD OUT
11pm Hosted by Fraser Young w/ Pat Thornton, & Andrew Ivimey
All shows are at Comedy Bar
945 Bloor St W (at Ossington Station)
Bio: Dana Gould began his professional comedy career at the age of seventeen. In addition to being a critically revered stand up comic, Dana was a Co-Executive Producer and writer on The Simpsons, and a producer on NBC's Parks and Recreation.
In 2009, Dana recorded his one-hour special, Let Me Put My Thoughts In You, and in 2013 recorded his next special, I Know It's Wrong. His monthly podcast, The Dana Gould Hour, frequently resides in iTunes' top ten comedy downloads
Dana Gould has multiple HBO specials to his credit as well guest appearances on The Late Show with David Letterman, Late Night With Conan O'Brien, and Real Time with Bill Maher. He has also made memorable appearances on The Ben Stiller Show, Seinfeld, Working, Anger Management, Mob City, Maron, and appeared in the film The Aristocrats.