We've had a pair of really fun shows this month at Comedy Bar, and we're wrapping it up with yet another lineup of nerdy comedians

The Epic Nerd Show is a specialty comedy event celebrating the quirks and triumphs of Nerdism from the team that has previously brought you Chris Hardwick, Janeane Garofalo, Aisha Tyler, Greg Proops, Brian Posehn, and Jackie Kashian
Featuring:
Mark Little
Nile Seguin
Luke Gordon Field
Randy Komi
Dave Atkinson
& Bobby Knauff
Tickets are $15, and can be purchased online at: ComedyBar.CA
or make a reservation at BoxOffice@ComedyBar.Ca

We had a blast last weekend at Comedy Bar, so we're back at it again on Sunday with a different lineup of nerdy comedians (and musicians)
Featuring:
Steve Scholtz (2012 Just For Laughs Festival)
Darryl Orr (2014 Just For Laughs Festival)
Craig Fay (2013 Just For Laughs Festival)
Nerds With Guitars (2014 Nerd Noise Night)
Michelle Christine (Comedy at the Ossington)
Dylan Gott (2012 Canadian Comedy Award Nominee)
Tickets are $15, and can be purchased online at: ComedyBar.Ca
or make a reservation at BoxOffice@ComedyBar.Ca

We're back at Comedy Bar for another exciting edition of the Epic Nerd Show.
Come join us on Saturday September 6th at 7pm to share in the nerdly hilarities
Featuring:
Andrew Ivimey
Amanda Brooke Perrin
Dave Atkinson
Beggar's Canyon
Loren SanCartier
Fraser Young
and special guest
Steve Scholtz
Tickets are $15, and can be purchased online at: ComedyBar.Ca
or make a reservation at BoxOffice@ComedyBar.Ca

The Epic Nerd Show – The Epic Trilogy Part 1
Presented by NXNE – Hosted by Craig Fay, featuring: Nile Seguin & some secret special guests
Thursday July 19
11pm
Comedy Bar – 945 Bloor St W
$10 or NXNE wristband – Gets you into all 3 Epic Nerd Shows
The Epic Nerd Show – The Epic Trilogy Part 2
Hosted by: Dave Atkinson, featuring Fraser Young, DeAnne Smith, & The Nerdy Stripper
Thursday July 19
Midnight
Comedy Bar – 945 Bloor St W
$10 or NXNE wristband – Gets you into all 3 Epic Nerd Shows
The Epic Nerd Show – The Epic Trilogy Part 3
Hosted by: Bobby Knauff, featuring Andrew Ivimey, Dylan Gott, Michelle Christine, & Jamie O'Connor
Thursday July 19
1am
Comedy Bar – 945 Bloor St W
$10 or NXNE wristband – Gets you into all 3 Epic Nerd Shows

Just Announced!
The next edition of The Epic Nerd Show will be happening on Saturday April 20th at
The Paintbox Bistro at 9:30pm. Headlined by Ryan Belleville!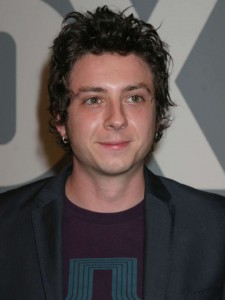 As a special promotion offered by the bistro, anyone who makes a dinner reservation will receive free admission to the show.
555 Dundas Street East at Parliament St
Reservations can be made at: (647) 748-0555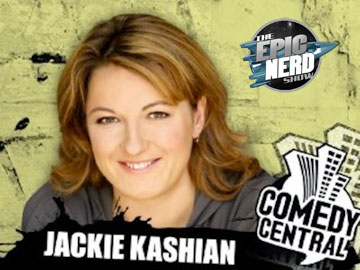 Also appearing on the show are Ian Macintyre (Sunday Night Live, Nerd Year's Eve), and Diana Bailey (2012 Toronto Comedy Brawl finalist).
Hosting the event will be Andrew Ivimey
We're unbelievably excited to present LA's own Jackie Kashian in her Toronto debut in January
This is a show that we've been chasing for months, but due to her extensive US touring schedule it took us ahell of a long time to get her up here.
Jackie is one of those very special comics who manages to blend wickedly smart material with accessibility. She's an outspoken opponent of bullshit in all it's forms, but presents it with a remarkable kindness that radiates throughout the entire room. Oh, and she's also a huge nerd. You won't want to miss it.
Don't believe me? Watch this

Show Details:
Friday January 18th at Comedy Bar – 945 Bloor St W (at Ossington Station). Show times are at 8:30 (8:00 door), and 10:30pm (10:00 door)
The shows at Comedy Bar are also PG-13 in case anyone is concerned about such things.
Admission is $20. Buy your tickets before Jan 1st, and get free admission to Jackie's live recording of The Dork Forest podcast on Thursday Jan 17th (details still to come).
Saturday January 19th at The Goderich Grill and Bar at 80 Courthouse Square in Goderich ON. Featuring Todd Van Allen, and Jay Scott
Bio: Jackie Kashian has been a national touring comic for over 15 years, and is the host of the long running Dork Forest Podcast.
She has her own half hour special on Comedy Central, was a semi-finalist on Last Comic Standing, has appeared on Tough Crowd with Colin Quinn, and performed at the Just For Laughs festival in Montreal.
In 2013, Jackie will be part of the inaugural NY Pod Fest in January, and later in the year will be part of Gilda's LaughFest in Detroit, as well as Bumbershoot in Seattle.
Her latest CD, "It is Never Going to Be Bread" was one of the top ten comedy albums on Amazon in 2010.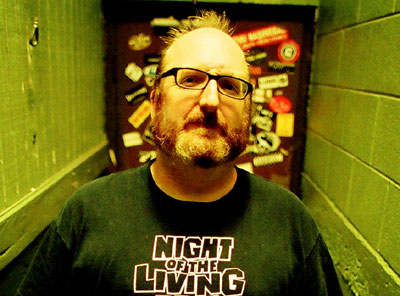 He's Baaaaack!
That's right folks, Brian Posehn returns to Toronto for One Night Only at The Annex Wreck Room on Friday October 19th at 8pm.
Tickets are $20

In the two years since Brian was last here he's been a busy guy.
He co-starred in the Judd Apatow's latest film Five-Year Engagement, performed as one of the stars on Just For Laughs 2011 Tribute To Nerds, appeared on John Oliver's New York Stand Up Show on Comedy Central, and is currently a writer on the new Charlie Sheen series Anger Management on FX.
Prior to this Brian starred in all 3 seasons of Comedy Central's The Sarah Silverman Program, performed at The Comedy Central Roast of Bob Saget, and most notably is one of the founding members of the legendary Comedians of Comedy Tour & TV Series alongside Patton Oswalt, Maria Bamford, and Zach Galifianakis.
This show with Brian Posehn is a joint production of The Dark Comedy Festival & Empire Comedy Live
Tickets are $20 and are available here!
The Annex Wreckroom is at 794 Bathurst Street (at Bloor). Doors open at 7:00, show starts at 10:00.
Here are a couple clips of Brian's stand up including his appearances at the 2011 Just For Laughs Festival, and John Oliver's New York Stand Up Show
(Sorry about the painfully mediocre Comedy Network Video Player)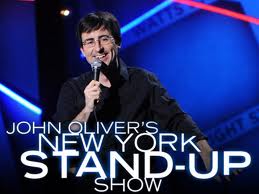 Here's a YouTube clip of Brian Posehn at Coachella back in 2007


"A comedy machine, in the best possible way.                                                           The way that some machines vend soda or prevent other machines from killing future revolutionaries – that's how Myq Kaplan does comedy:                                             Relentlessly, Methodically, Unblinkingly"          – The Comedians Magazine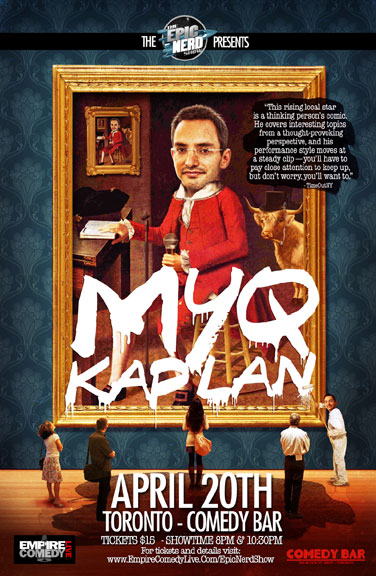 Myq Kaplan Live in: Toronto, Kitchener-Waterloo, & Montreal
Friday April 20th- Sunday April 22nd

Click Here for Waterloo Tickets
"This rising local star is a thinking person's comic.
He covers interesting topics from a thought-provoking perspective, and his performance style moves at a steady clip—you'll have to pay close attention to keep up, but don't worry, you'll want to."
– TimeOutNY
Who is Myq Kaplan?
A Jewy-ish atheistic vegan who spells the name "Mike" weird (sorry or you're welcome), Myq enjoys words, social justice, Netflix, and comic books. Also non-comic books, ping-pong, and being great with women. And grammar and run-on sentence fragments. And of course, entertaining his demographic, which is anyone who might know the word "demographic."
Myq is also one of the fastest rising stars in comedy today.
Within the past 3 years, Myq has performed on the some of the largest shows on television: The Tonight Show with Conan O'Brien (2009), Late Night with David Letterman (2011), Conan on TBS (2012 & 2011), and the Late Late Show with Craig Ferguson (2012 & 2010).
Myq also placed 5th on the 2010 edition of NBC's Last Comic Standing, and also recorded his own 30 minute special for Comedy Central Presents that same year.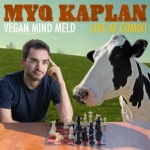 His 2010 CD Vegan Mind Meld, was a top 10 Seller on iTunes.
Myq also placed 5th on the 2010 edition of NBC's Last Comic Standing, and also recorded his own 30 minute special for Comedy Central Presents.

Myq will be appearing at Toronto's Comedy Bar on Friday April 20th.             Shows at 8:00 & 10:30, hosted by Craig Fay.
8:00 Featuring: Marilla Wex, & Andrew Ivimey – SOLD OUT                                             10:30 Featuring: Marilla Wex, Ian Macintyre, & Jay Scott.
Saturday April 21st at Waterloo's The Embassy                                                            at 7:00 SOLD OUT, & 9:30.                                                                                                   Featuring: Andrew Ivimey & Rob Mailloux
Sunday April 22nd at Montreal's Comedy Nest at 8:00                                            Featuring: Andrew Ivimey, Mike Paterson, & Rob Mailloux
You can follow Myq on his assorted corners of the Internets at:

The Epic Nerd Show makes it's grand return on February 10th through February 11th, with The Nerdist himself Chris Hardwick

The world famous Nerdist is returning to Toronto for a weekend of shows for the first time since Just For Laughs 2009.
He's recording his new Comedy Central special on Feb 17th, so this is his last stop to get everything polished.
Tickets are $20, and are available at the Comedy Bar box office at 945 Bloor St W or by following this link:
Buy Chris Hardwick Tickets Here
All 4 shows are now SOLD OUT!

Note: The Thursday show has been cancelled due to Chris being booked to appear on Late Night with Jimmy Fallon.
Any tickets purchased for Thursday have already been refunded.
About Chris Hardwick:
Chris is the creator and star of The Nerdist Podcast (A Top 10 Comedy Podcast on iTunes), the cornerstone of Nerdist industries; an industry that has spawned:
* A Wildly Popular Blog at Nerdist.Com
* 1.5 Million Delightful Twitter Followers (Selected by Time Magazine as one of the 140 most influential people on Twitter) @Nerdist
* A Nerdist Television series on BBC America
* A New Book from The Penguin Group titled "The Nerdist Way"
* Talking Dead, the official AMC aftershow about The Walking Dead
Chris also hosts "The Soup's" geeky little brother show "Web Soup," and plays with gadgets on "Attack of the Show," both on "G4."
Hardwick makes regular appearances on Chelsea Lately, The Soup, and The Late Late Show with Craig Ferguson.
Additionally, he has played at numerous comedy/music festivals including Just for Laughs, US Comedy Arts, SF Sketchfest, SXSW, Coachella, Bumbershoot.
The shows at Comedy Bar feature Rob Mailloux with special guests
Friday 8:00 Evan Desmarais & Nerds with Guitars
Friday 10:00 Rhiannon Archer & Dylan Gott
Saturday 8:00 Andrew Ivimey & DeAnne Smith
Saturday 10:00 Dom Pare & TBD
This show is presented by The Comedy Addict & Empire Comedy Live