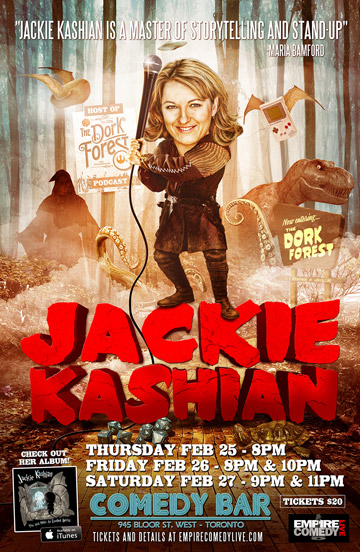 All shows are at Comedy Bar
945 Bloor St W (at Ossington Station)
Tickets are $20
We're very excited to have Jackie Kashian return to Toronto for the first time since January 2013! She's been very busy since she was last here.
Jackie released a brand new one hour special and album, performed on Conan twice, as well as @Midnight, Maron, and more
Plus she's continued her popular weekly podcast "The Dork Forest" on the All Things Comedy Network, and has now launched a second podcast with Laurie Kilmartin on the Nerdist Network
Oh, and she continues to tour clubs and festivals all across the US
Showtimes & Tickets
Thursday Feb 25 – 8pm
Hosted by Dawn Whitwell w/ Nour Hadidi, & N2N (Nigel Downer & Nug Nahrgang)
Friday Feb 26 – 8pm & 10pm
8pm Hosted by Tom Calnan w/ Rhiannon Archer & Carol Zoccoli
10pm Hosted by Bob Banks w/ Courtney Gilmour, & Shawn Hogan
Saturday Feb 27 – 9pm & 11pm
9pm Hosted by Joe Vu w/ Lucy Cappiello, & Yvonne Gauthier – SOLD OUT
11pm Hosted by Jhanelle Dennis w/ Amanda Brooke Perrin, & Tracy Hamilton
Bio
Jackie Kashian's comedy is like listening to a really racy episode of All Things Considered. She is a national touring comic with a new hour standup special "This Will Make an Excellent Horcrux." on the All Things Comedy Network.
In 2015 she performed for the second time on Conan on TBS, she's also appeared on @Midnight, Maron, has her own half hour special on Comedy Central, was a semi-finalist on Last Comic Standing, and has recorded This American Life with Ira Glass for NPR.
She has a weekly Podcast where she interviews people about their obsessions. Tune into The Dork Forest on iTunes or at her website: www.dorkforest.com
and just launched a new podcast on the Nerdist Network with Laurie Kilmartin called "Jackie & Laurie"