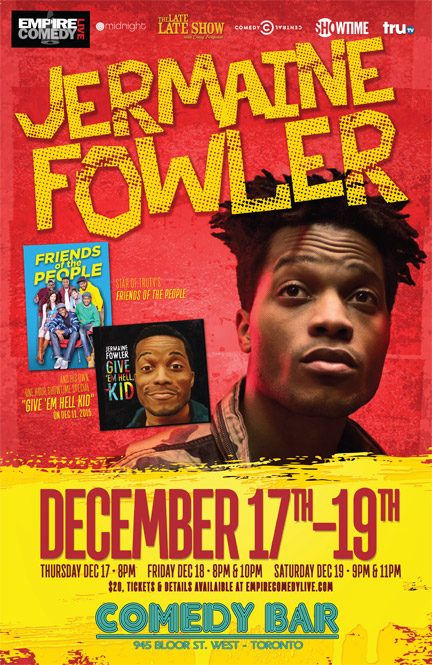 Jermaine Fowler – Dec 17-19
Live at Comedy Bar
945 Bloor St W (at Ossington Station)
$20 – Tickets and showtimes below
Jermaine Fowler has a brand new full hour special premiering on Showtime (USA) on Friday Dec 11, 2016, and is the co-creator, writer, and start of TruTV's Friends of the People (USA).
He's performed stand up on The Late Late Show w/ Craig Ferguson, Comedy Underground w/ Dave Attell, and of HBO Canada's Funny as Hell, and…
He currently has a second sitcom in active development with CBS due for pilot in spring 2016, based on his life in which he will star and co-write
Other television appearances and performances for Jermaine Fowler include @Midnight (Comedy Central), Bojack Horseman (Netflix), The Nightly Show w/ Larry Wilmore (Comedy Central), Lucas Bros Moving Company (TruTV), The Eric Andre Show (Adult Swim), Guy Code (MTV), and more
This is an exciting chance to see a true rising star before he catches fire. Don't miss it!
Press & Media requests can be sent to Ian@EmpireComedy.Net
Showtimes & Tickets
Thursday Dec 17 – 8pm
Click here for tickets
Friday Dec 18 – 8pm & 10pm
Click here for 8pm tickets
Click here for 10pm tickets
Saturday Dec 19 – 9pm & 11pm
Click here for 9pm tickets
Click here for 11pm tickets