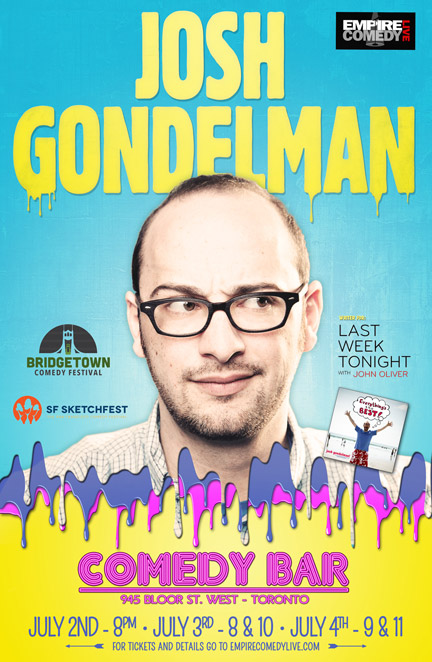 We're very excited to present Josh Gondelman live at Comedy Bar!
Josh is a writer for Last Week Tonight with John Oliver on HBO, and he is the co-creator and co-author of the popular Modern Seinfeld Twitter account, and his own Twitter feed has been named one of the best by Paste Magazine.
All shows are at Comedy Bar – 945 Bloor St W
(at Ossington Station). Tickets are $20
Saturday July 4 – 9pm & 11pm
9pm w/ Fraser Young, Mark Little, & Wojtek Arciszewski
Click Here for Tickets for 9pm
11pm w/ Pat Thornton, Amanda Brooke Perrin, & Jeremy Woodcock
Click Here for Tickets for 11pm
Past shows
Thursday July 2 – 8pm
Hosted by Luke Gordon Field w/ Mark Forward and Chris Locke
Click Here for Tickets
Friday July 3 – 8pm & 10pm
8pm Hosted by Dena Jackson w/ Ali Hassan and Alex DeWitt
Click Here for Tickets for 8pm
10pm Hosted by Craig Fay w/ Josh Elijah
Click Here for Tickets for 10pm
Onstage, Josh charms audiences using his good-natured storytelling and cracks them up with his sharp, pointy wit. He takes topics from surprise parties to his experience teaching preschool and makes them all equally hilarious.
Gondelman has performed at the Rooftop Comedy Festival in Aspen, the Eugene Mirman Comedy Festival, the Bridgetown Comedy Festival, and SF Sketchfest.
In the past, Josh has written for Fuse TV's Billy On The Street, and his debut standup album, "Everything's The Best" is available from Rooftop Comedy Productions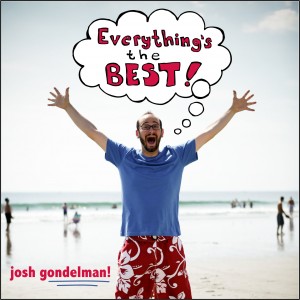 Josh is the co-author (with Joe Berkowitz) of the forthcoming book You Blew It, available October 2015 from Plume.
Presented by Empire Comedy Live
Press and Media requests can be directed to: Ian@EmpireComedy.Net