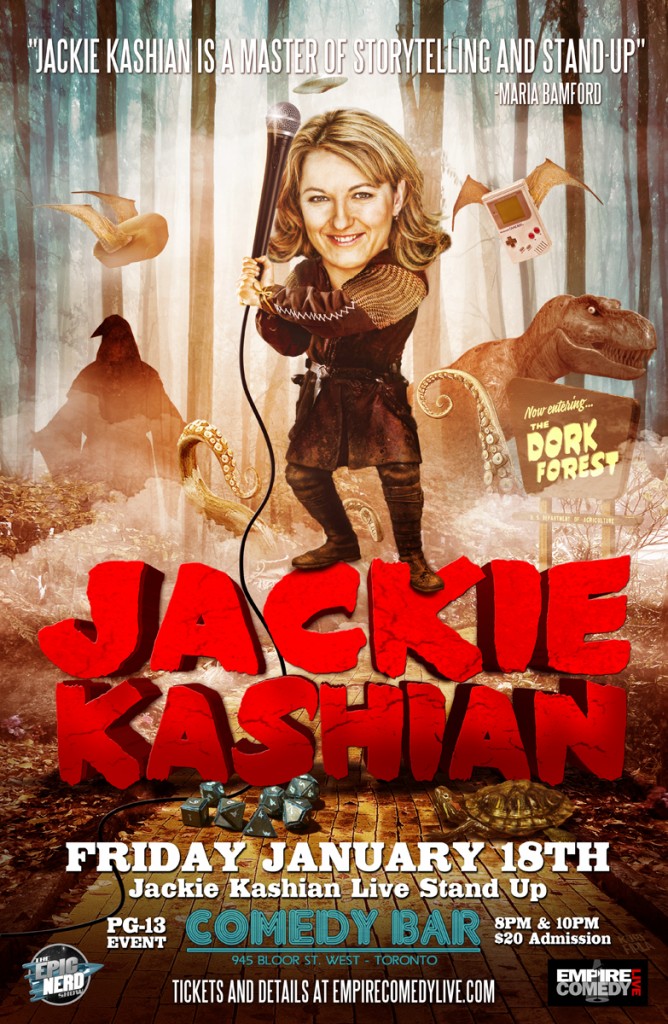 UPDATE: 8pm show on Friday at Comedy Bar is now SOLD OUT! 10pm still available.
We're unbelievably excited to present LA's own Jackie Kashian in her Toronto debut.
This is a show that we've been chasing for almost a year, but due to her extensive US touring schedule it took us a hell of a long time to get her up here.
On January 17th we'll be recording a live episode of Jackie Kashian's Dork Forest podcast at Nerd Nite Toronto. Jackie's guests on the podcast will be none other than Sean Cullen & Debra DiGiovanni!
On Friday January 18th, Jackie will be performing 2 stand up shows at Comedy Bar (8pm & 10pm)
 But who is Jackie Kashian? Jackie is one of those very special comics who manages to blend wickedly smart material while remaining accessible to the audience. She's an outspoken opponent of bullshit in all it's forms, but presents it with a remarkable kindness and warmth that radiates throughout the entire room.
Oh, and she's also a huge nerd. You won't want to miss it.
Don't believe me? Here's what Maria Bamford had to say about Jackie Kashian:
"Jackie Kashian is a master of storytelling and stand-up. I regularly have to follow her after she's blown the roof off the place with her warmth, delightfully-building punchlines and hilarious goofiness."
Show Details:
Live Recording of The Dork Forest Podcast
with special guests Debra DiGiovanni & Sean Cullen!
Thursday January 17th at Tranzac -
292 Brunswick Ave @ Bloor at 8pm. Tickets are $10
in association with Nerd Nite Toronto
Live Stand Up
Friday January 18th at Comedy Bar – 945 Bloor St W (at Ossington Station)
Show times are at 8:00 (7:45 door), and 10:00pm (9:45 door)
Special guests include: Chelsea Manders, & Denis Grignon (8pm), Rhiannon Archer, Wojtek Arciszewski (10pm)
Our hosts for the evening will be: Darryl Orr (8pm) & Jamie O'Connor (10pm)
A night of live stand up comedy featuring one of America's smartest, yet most endearingly warm and personable performers. Comedy for grown ups, in a PG-13 atmosphere.
Admission is $20.
Saturday January 19th at The Goderich Grill and Bar at 80 Courthouse Square in Goderich ON. Featuring Todd Van Allen, and Jay Scott

Bio: Jackie Kashian has been a national touring comic for over 15 years, and is the host of the long running Dork Forest Podcast.
She has her own half hour special on Comedy Central, was a semi-finalist on Last Comic Standing, has appeared on Tough Crowd with Colin Quinn, and performed at the Just For Laughs festival in Montreal.
In 2013, Jackie will be part of the inaugural NY Pod Fest in January, and later in the spring will be part of Gilda's LaughFest in Detroit, as well as Bumbershoot in Seattle.
Her latest CD, "It is Never Going to Be Bread" was one of the top ten comedy albums on Amazon in 2010.