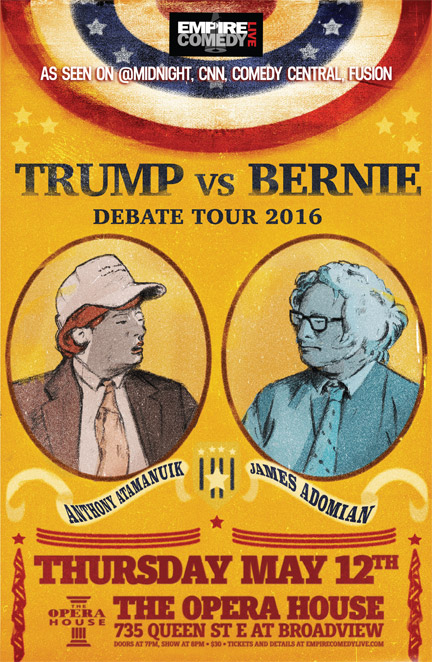 Trump vs Bernie: The Debate!
Thursday May 12 – Toronto
The Opera House – 735 Queen St E (at Broadview)
Doors at 7pm, Show at 8pm (sharp)
Moderated by Amanda Brooke Perrin
Advance tickets close at 5pm, but will still be available at the door. Any questions or problems, email Ian@EmpireComedy.Net or call 416 554 9362
An improvised debate show where presidential candidates Donald Trump and Bernie Sanders square off in front of a live crowd.
"You guys HAVE to see this show. It is amazing." – Patton Oswalt
"This show is a goddamned riot!" – Andy Richter
"Get involved in the perfection!!" – Reggie Watts
A massive hit across the US, with a full election special for Fusion TV, and a surprise extended 1 hour edition of Comedy Central's @Midnight (a first in the history of the program)
We're thrilled to bring James Adomian back to Toronto (a previous selection by Now Magazine as one of the Top 10 comedy shows of the year) with Tony Atamanuik for this special one night only event!
Even more praise for Trump vs Bernie
"Hey everyone go see this show! Funneeeeeeee" – Scott Aukerman
"Beyond hilarious! On a scale of 1-10, it's an 11! TREMENDOUS Trump-BRILLIANT Bernie" – Mark Hamill
"If Trump vs Bernie comes to your town, you MUST SEE. So funny. – Laurie Kilmartin"
"Adomian's Sanders is truly great" – Washington Post
"go see them if these maniacs pass through your town" – Chris Gethard
Bios
James Adomian is a comedian and actor who is well known for his standup, characters and
impressions. James most recently wrapped shooting on the feature film LOVE AFTER
LOVE starring opposite Chris O'Dowd and Andie MacDowell. He can be seen in David
Cross' feature directorial debut HITS, which premiered at Sundance 2014. He has appeared
on Comedy Central's THE MELTDOWN and DRUNK HISTORY, on Adult Swim's CHILDREN'S
HOSPITAL and on IFC's COMEDY BANG! BANG!
James performed standup on NBC's LAST COMIC STANDING where he was a Top 10 finalist.
Anthony Atamanuik is a comedian and actor in New York City. Anthony has appeared
on 30 ROCK, BROAD CITY, HULU's DIFFICULT PEOPLE, MTV's TEACHERS LOUNGE and as himself.
You can see him on a variety of platforms, College Humor and Funny Or Die.
Thursday May 12 – Toronto
The Opera House – 735 Queen St E (at Broadview)
$30 Tickets – Click Here to Buy