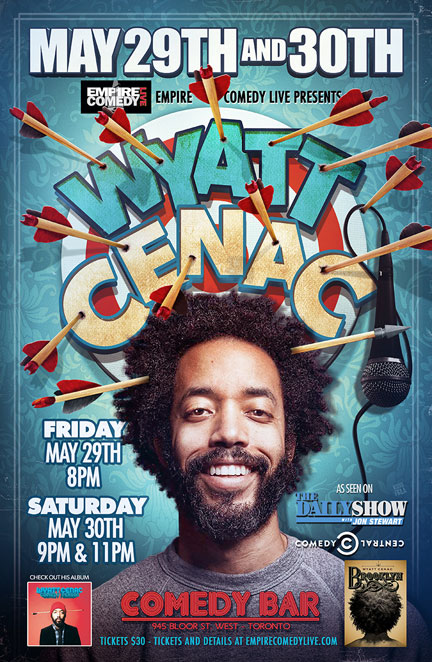 TICKETS & SHOWTIMES
All Shows Are $30
Comedy Bar – Mainstage
945 Bloor St W at Ossington Station
Saturday May 30th – 9pm & 11pm
11pm hosted by Andrew Ivimey w/ Nile Seguin
Click Here for Tickets for 11pm
9pm Hosted by Dave Atkinson w/ Luke Gordon Field
9PM is SOLD OUT!
Friday May 29th – 8pm – SOLD OUT
Hosted by Nile Seguin w/ Fraser Young
Click Here for Tickets
Wyatt Cenac is a stand-up comedian, actor, and writer, best known for his work on THE DAILY SHOW WITH JON STEWART, where he was a correspondent and writer from 2008 to 2011.
In 2011 Wyatt left The Daily Show and released his first full length stand up special & album with Comedy Central, called "Comedy Person", and followed that up with a second special in 2014 on Netflix called "Brooklyn"
Showtimes & Tickets are listed below
2015 Melbourne Comedy Festival

Medieval Times from Wyatt's album Comedy Person

He's performed on John Oliver's New York Stand Up Show for Comedy Central, and made appearances on Conan, Late Night w/ Jimmy Fallon, Late Night w/ Seth Meyers, Bojack Horseman, Maron, The Eric Andre Show, Totally Biased w/ W Kamau Bell, Sleepwalk with Me, and can be seen in David Cross' new movie "Hits"
Wyatt also spent three seasons writing on KING OF THE HILL.
TICKETS & SHOWTIMES
All Shows Are $30
Comedy Bar – Mainstage
945 Bloor St W at Ossington Station
Friday May 29th – 8pm
Click Here for Tickets
Saturday May 30th – 9pm & 11pm
Click Here for Tickets for 9pm
Click Here for Tickets for 11pm
Presented by Empire Comedy Live
Press & Media Requests can be sent to: Ian@EmpireComedy.Net